Madrix Key
LEDs are everywhere. MADRIX® is the powerful yet simple LED lighting control system made in Germany. Amazing projects are brought to life with our high-quality software and hardware.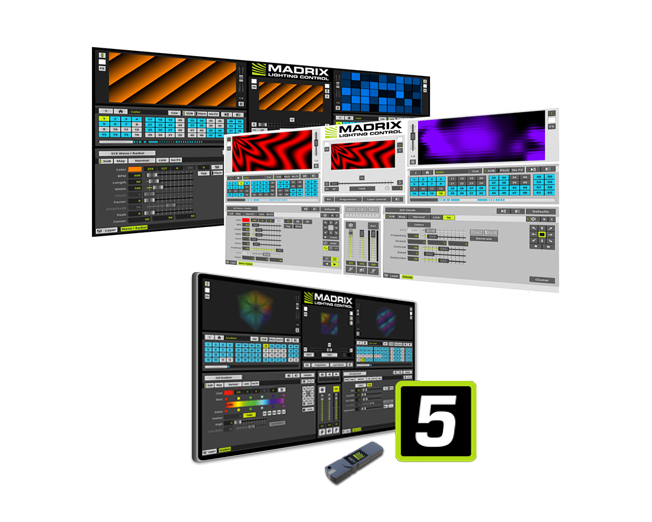 Madrix Key
The MADRIX® Software allows you
to quickly produce extraordinary
live visuals. You can easily bring creative and diverse lighting effects to any LED installation.
MADRIX
MADRIX® is all about powerful yet simple products for creative LED lighting. This includes compelling tools for lighting management, monitoring, and control. Our innovative features will bring you the best results.  Benefit from years of experience and industry knowledge. inoage® develops lighting software since 2005. Our dedicated team created the award-winning controller MADRIX® 5.
MADRIX® – Lighting Control
LEDs are everywhere. MADRIX® is the powerful yet simple LED lighting control system made in Germany. Amazing projects are brought to life with our high-quality software and hardware.
The MADRIX® Software is the preferred lighting tool of choice for industry professionals, lighting designers, operators, VJs, and enthusiasts all around the world.
From small projects and events to high-profile architectural installations, the largest stages, and the most famous clubs, MADRIX® Software makes the most creative lighting designs possible. Thanks to
very intuitive controls and enormous flexibility, you can create stunning lighting effects for your LEDs in
no time. The application is a real-time effects generator for 2D pixel mapping and 3D voxel mapping with additional media server capabilities. Using the built-in graphics and rendering engine, fully customizable live visuals are created by you quickly and easily.
Combined with neat hardware products, it is a proven and innovative LED control solution. MADRIX® hardware reliably transfers the lighting data to your LEDs and controllers. Any small or large LED installation benefits from prime build quality and outstanding features, such as the built-in synchronization mode that ensures an optimal image on your LEDs without visual interruptions.
Ultimate Flexibility
From the smallest projects to the biggest ones
– get the best out of your LEDs. The MADRIX® Software can produce a complete LED light show from a normal computer or laptop. Still, it can drive tens of thousands of LEDs without problems. This powerful software will not only allow you to control nearly any 2D LED display in every possible way, but real 3D LED applications as well. This makes it the ideal solution for your LED project.
Ultimate Creativity
Bring your LED design to life with beautiful colors, stunning visuals, and spectacular effects. The MADRIX® Software adapts to your needs. Use it
as LED lighting controller, VJ software, 2D pixel mapper, 3D voxel mapper, media server, or media creator. This software is very easy to use with a VJ-like operation, 2 decks and a crossfader, plus 3 real-time previews to show your effects in advance.
Audio-Reactive Visuals
The MADRIX® Software features a state-of-the-art audio analysis. It can process any live audio signal and create stunning real-time lighting visuals. These live effects will create a light show that
runs in sync with your music. And thanks to the integrated effects generator, you can also create many lighting patterns without audio input. And you can always customize everything, such as speed, color, shape, direction, size, movement, position, brightness, and much more.
Ultimate Control
MADRIX® 5 is the ultimate control software for LED lighting. All-new features such as the TRI effect category, audio playback for videos, the CSV fixture list import, a fresh user interface with two themes that is even easier to use, unprecedented performance and speed thanks to the powerful
new 64-bit render engine, and many more allow you to produce amazing results right from the start. Cutting-edge technologies provide you with all the tools you need for modern LED control.
MADRIX 5 License
DMX Universes

DMX Channels

RGB Voxels

DVI Voxels

Render Resolution

Upgradable

Validity
Madrix Key ENTRY
8 Universe

4096

1365

16384

128 x 128

Yes

Lifetime
Madrix Key BASIC
32 Universe

16384

5461

262144

512 x 512

Yes

Lifetime
Madrix Key PROFESSIONAL
128 Universe

65536

21845

1048576

1,024 x 1,024

Yes

Lifetime
Madrix Key ULTIMATE
512 Universe

262144

87381

2097152

2,048 x 1,024

Yes

Lifetime
Madrix Key MAXIMUM
2048 Universe

1048576

349525

2097152

2,048 x 1,024

Yes

Lifetime