SPI Pixel Tube RGB LED Light
We've been producing high quality Digital LED Tube you need at the prices you want. Can be widely used in an Architectural lighting, KTV, Bars, Museums, events and stage lighting. Our SPI controllable Pixel Tube with RGB color mixing individually controllable via SPI has a frosted PC tube with super bright LED allowing you to provide dynamic and eye-catching 3D graphics.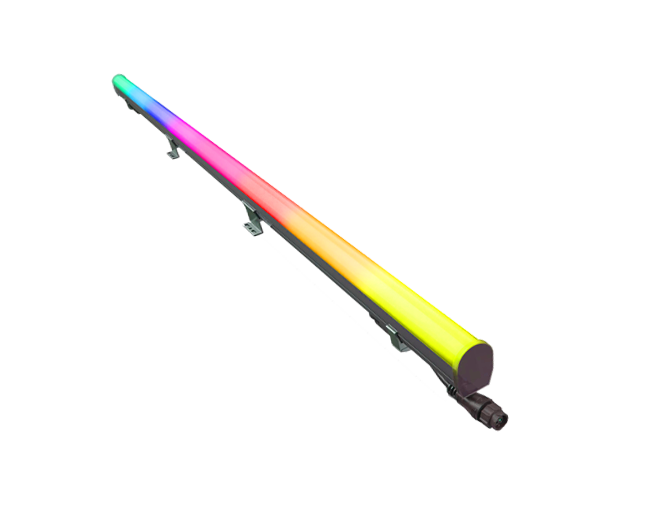 SPI Pixel Tube RGB LED Light
Our SPI Pixel LED Tube RGB  is one of the most advanced LED Pixel Tube on the market. This lightweight aluminum profile is easily integrated into existing facade structures and cladding elements. Compatible with Madrix Software.
SPI Pixel Tube RGB LED Light
Product Type: SPI RGB Pixel Tube
LED Color: RGB Full Color
Signal: SPI
Viewing Angle: 180º
Working Voltage: DC24V
LEDs/ICs QTY: 64LEDs/64pixels/M | 32LEDs/32pixels/M
Power: 19.2W
LED Type: SMD 5050 Epistar
Lumens: 2000-2500MCD/LED
IC Type: SPI WS2812B
LED Type: SMD 5050
Gray level: 256
Color Temperature:
R-wavelength (D): 620-625nm
G-wavelegth (D): 515-520nm
B-wavelegth (D): 465-470nm
Working Temperature: -20 ºC to 60 ºC
IP Grade: IP66
Connector: 4 Pins Cable Connector
Life Hour: 50,000 hrs
Bar Size: W20*H20mm
Tube Diameter: 30mm (Bar+Tube W30*H50mm)
Material:Frosted Polycarbonate + Aluminum
Length: 500mm/1000mm
SPI Pixel Tube RGB LED Light
Product Type: SPI RGB Pixel Tube
LED Color: RGB Full Color
Signal: SPI
Viewing Angle: 180º
Working Voltage: DC24V
LEDs/ICs QTY: 64LEDs/64pixels/M | 32LEDs/32pixels/M
Power: 19.2W
LED Type: SMD 5050 Epistar
Lumens: 2000-2500MCD/LED
IC Type: SPI WS2812B
LED Type: SMD 5050
Gray level: 256
Color Temperature:
R-wavelength (D): 620-625nm
G-wavelegth (D): 515-520nm
B-wavelegth (D): 465-470nm
Working Temperature: -20 ºC to 60 ºC
IP Grade: IP66
Connector: 4 Pins Cable Connector
Life Hour: 50,000 hrs
Bar Size: W20*H20mm
Tube Diameter: 30mm (Bar+Tube W30*H50mm)
Material:Frosted Polycarbonate + Aluminum
Length: 500mm/1000mm
SPI Pixel Tube RGB LED Light
Product Type: SPI RGB Pixel Tube
LED Color: RGB Full Color
Signal: SPI
Viewing Angle: 180º
Working Voltage: DC24V
LEDs/ICs QTY: 64LEDs/64pixels/M | 32LEDs/32pixels/M
Power: 19.2W
LED Type: SMD 5050 Epistar
Lumens: 2000-2500MCD/LED
IC Type: SPI WS2812B
LED Type: SMD 5050
Gray level: 256
Color Temperature:
R-wavelength (D): 620-625nm
G-wavelegth (D): 515-520nm
B-wavelegth (D): 465-470nm
Working Temperature: -20 ºC to 60 ºC
IP Grade: IP66
Connector: 4 Pins Cable Connector
Life Hour: 50,000 hrs
Bar Size: W20*H20mm
Tube Diameter: 30mm (Bar+Tube W30*H50mm)
Material:Frosted Polycarbonate + Aluminum
Length: 500mm/1000mm