Module Type LED Street Light
Significantly longer lifespan than traditional sodium bulbs, lasting for 50,000 hours or two to five times longer than traditional street lights.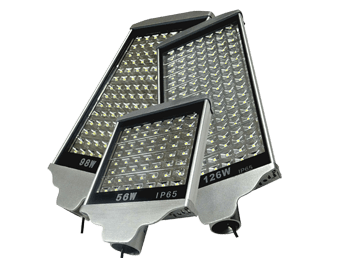 Module Type LED Street Light
We provide quality LED products at the lowest prices in market.
Module Type LED Street Light
Module Type LED Street Light – Using Taiwan Epistar and Bridgelux chips, GlobeLED Street Lights are designed with high energy efficiency, uncompromising reliability and perfect optical light distribution. With standard efficiency at least 110lm/W output LED can usually produce higher or similar amount of luminance as traditional lights. Made of die casted and extruded aluminum. All screws are made of stainless steel material. LEDs are available in a variety of color temperatures, typically ranging from Warm White, Cool White to Daylight. LEDs have a significantly longer lifespan than traditional sodium bulbs, lasting for 50,000 hrs or two to five times longer than traditional streetlights.  LEDs are brighter than traditional lights, and are more energy efficient than earlier generation bulbs.
LED Road Lamp Philippines
GlobeLED Philippines is a leader in innovative design of LED Road Lighting in the Philippines. Our Street Lighting products help LGU and private sectors all over the country in achieving their sustainability goals and saving an average of 50% to 70% in energy costs over the old inefficient and expensive technology and reduce maintenance costs by 80%. Our lamps dramatically reduce energy cost and eliminates pollutants such as Carbon Emissions, Green House Gas Emissions, Mercury, ultraviolet rays, Infrared Radiation (IR) and other light pollution that impacts our environment. We use the latest lighting technology for Road Street Lamp products with high performing LED Chips, delivering efficient and cost effective results. We have innovative solutions designed to reduce our clients' energy consumption, generate efficiency savings while maintaining an effective service which meets the needs and trust within the industries that we supply with our wide range of products.
Module Type LED Street Light
Power: 28W, 42W, 56W, 84W, 98W, 126W, 154W
LED Chip: Taiwan Epistar / Bridgelux Chip
LED Driver Brand: Taiwan Meanwell
IP Rating: IP65
CRI: 75
Input Voltage: AC85~265V
CCT: 2700-6500
Light Color: Warm White/Day Light
Power Efficiency: >0.88
Power Factor: >0.95
Luminous Flux: 110lm/w
Working Temperature: –30?~50?
Installation Height: 42W to 84W: 3-5m, 98W/154W: 8-12m
Beam Angle: 120 degree
Life Span: 50,000 Life Hrs
Main Material: Die Cast Aluminum
Certifications: CE RoHS FCC
Light Distribution: Curve/Beam Pattern
Warranty: 3 Years
Product Dimension(mm):
28W: 305*310*80MM
42W: 365*310*80MM
56W: 425*310*80MM
84W: 545*310*80MM
98W: 605*310*80MM
126W: 725*310*80MM
154W: 845*310*80MM
We offer a range of High quality LED Street Lights in various sizes and specifications. Taiwan Epistar and US Brigdelux LED Chips will provide much higher Lumens with lower energy consumption that can last up to 50,000 hours. Using Mean Well led drivers perfect for a variety of applications and can withstand harsh weather conditions. Manufactured using high quality die cast aluminum and sophisticated technology, Our LED Street Lights are known for modern design, high functionality and compact size. This LED can be used as lighting source of modern solar street light. The major attraction of LED street lights is energy efficiency when compared to other street lighting technologies such as Metal Halide and High pressure sodium. LED street lights ideal for use in public lighting of roads, streets, bicycle tracks, parking spaces, sidewalks, footpaths and others.